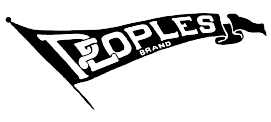 The Detroit Gems
1946 - 1947
The Detroit Gems will go down in history as one of the worst teams in professional basketball history; they'll also go down as the birth of one of the greatest.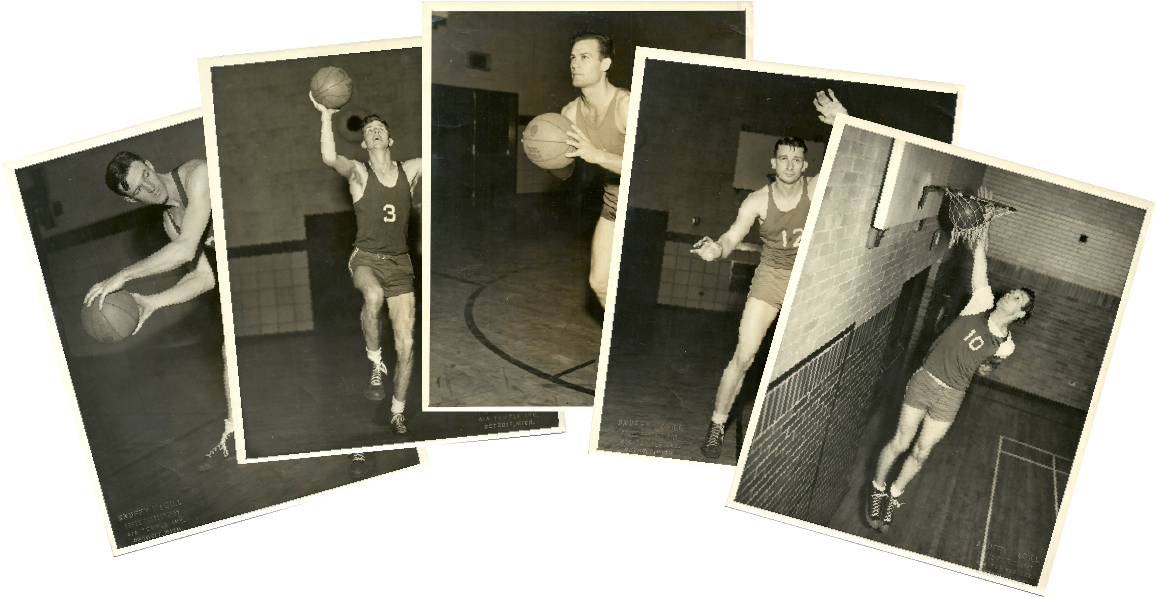 Bob Dykstra, Dave Latter, Fred Campbell, Del Loranger, Ed Parry
Photo credit: My Collection (via Snuffy McGill Press Photography)
Let's Hope the Gems Sparkle
KING BORING AND THE WINSTON JEWELERS
The Gems were owned and operated by Maurice Winston and C. King Boring, both of Dearborn Michigan. Maurice owned Winston Jewelers and had been sponsoring sports teams in the Detroit area for several years.
King Boring was a baseball scout for the Detroit Tigers and as far as I can tell their connection started on the diamond. King Boring was the manager of the "Winston Jewelers" 1941 State Baseball Champions. It seems they both got tired of the name so they branched out a bit and named their new team the Gems.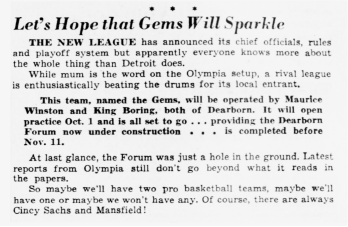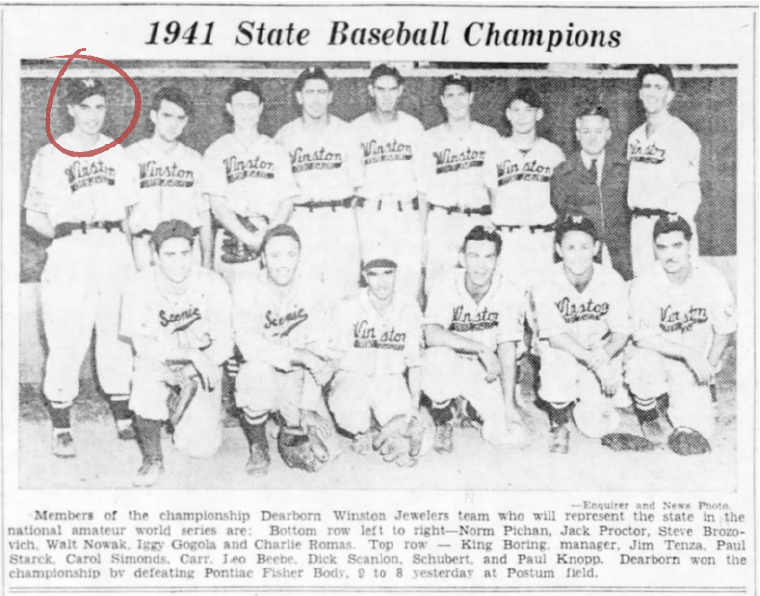 A ROCKY START FOR THE GEMS
NO HOME COURT
The Gems started the season with high hopes and the promise of a "sports palace" in Dearborn. Unfortunately the construction of the Dearborn Forum was headed by a syndicate comprised of fighters, promoters and hockey players bent on making a quick buck. It was supposed to hold 7000-10000 people. Instead they played at the Ferndale High School gym and later Holy Redeemer High School with a max capacity of 2000…they averaged 300 fans.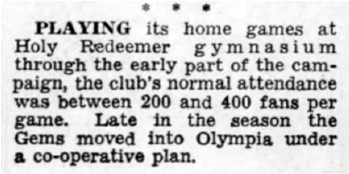 "The hapless Detroit Gems gained a firmer hold on the cellar of the Western Division..." United Press 1947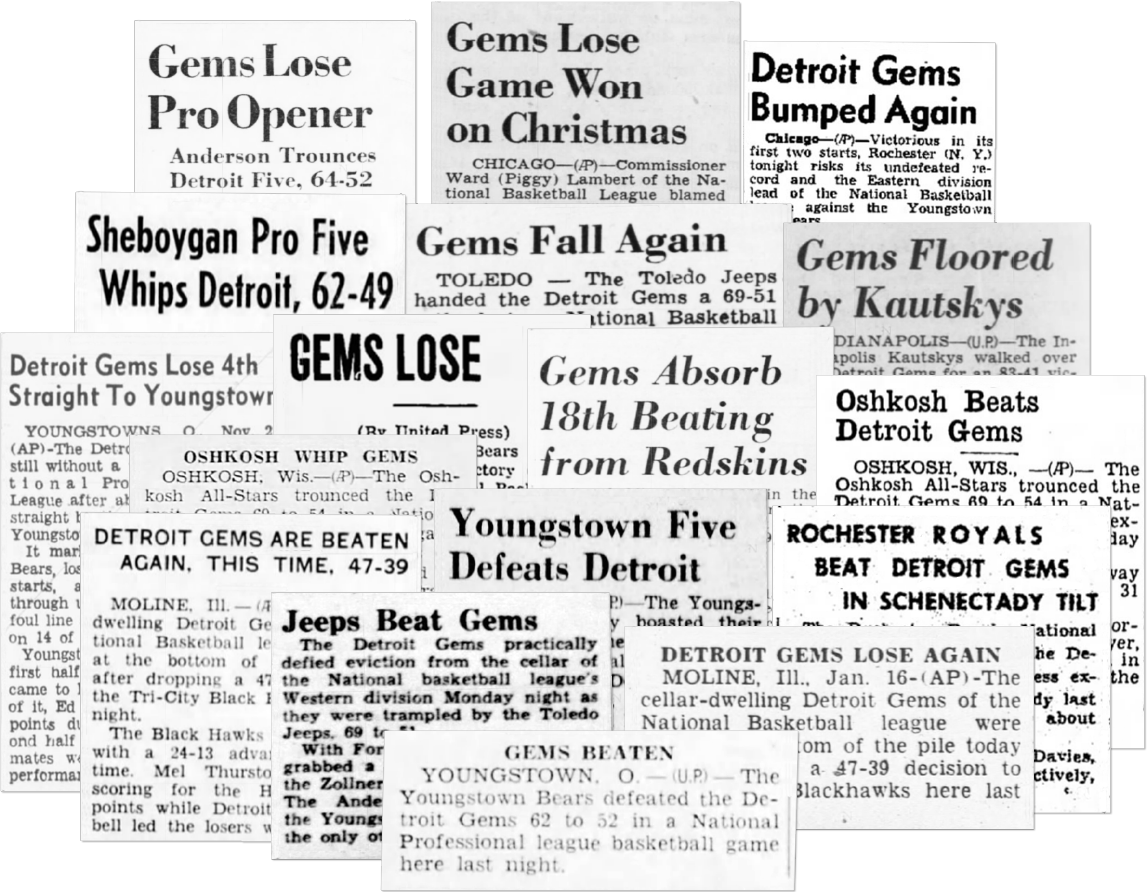 THE GEMS STUNK, BUT...
Turns out home court matters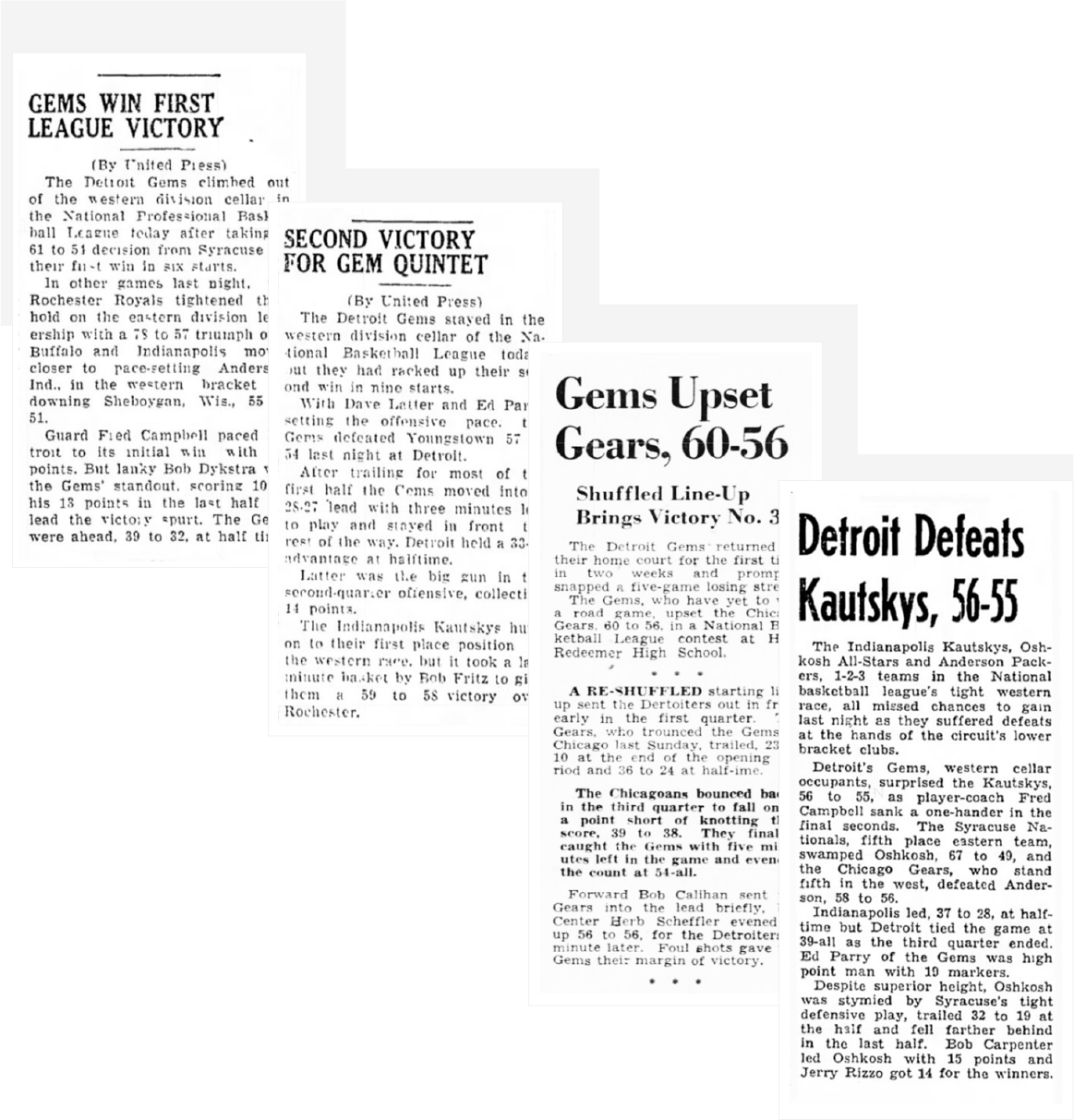 GEMS WIN 4 GAMES
The Gems stunk. Their losses piled up, but every now and then they squeaked out a win. Their first was against the Syracuse Nationals 61-54 at Lincoln High Gym, Dearborn. Their second win came against the Youngstown Bears in front of 600 fans at Holy Redeemer, Dearborn. They even beat the Chicago American Gears, winning on free throws after being up 12 at half, at Holy Redeemer. Their fourth and final win was against the #1 ranked Indianapolis Kautskys on a last second field goal by their coach. Yes, their coach. Their coach Freddie Campbell was routinely their leading scorer. How the times have changed. Oh and guess where this win went down? That's right, Holy Redeemer. One can't help but wonder what would have happened if that "sports palace" was completed. Turns out, it never was. Lucky for L.A.
11/17/46 RECORD-EAGLE, TRAVERSE CITY, MI
12/04/46 RECORD-EAGLE, TRAVERSE CITY, MI
12/19/46 DETROIT FREE PRESS, DETROIT, MI
1/17/47 WAUKESHA DAILY FREEMAN, WAUKESHA, WIS.
4-40, $25K IN DEBT, HIGH SCHOOL GYMS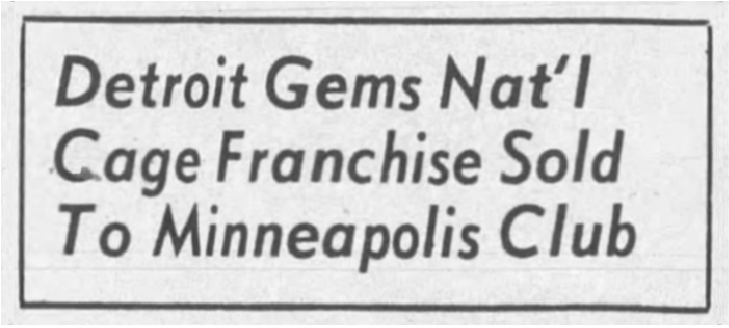 Benny Berger, a former fight promoter and now theatre, restaurant, and real estate tycoon from Minneapolis bought the Detroit Gems from Maurice Winston and King Boring on June 4, 1947 for $15,000. The deal went through late in the subsequent season and the college draft for players had already been completed. Maurice needed votes to okay the transfer and he got those votes by giving up his draft choices.
Benny got nothing from Detroit. He needed a little luck, and deep pockets for talent. He had both.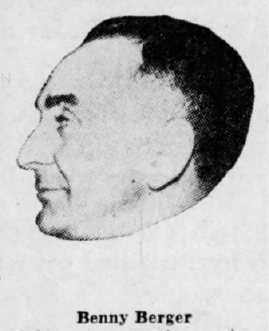 Lucky for him George Mikan's team, the Chicago American Gears (WHO the Gems BEAT the previous year sans Mikan of course) disbanded with National Professional Basketball League. Since the Gems were so terrible, Berger received the first pick in a National league draft of these newly available players. He chose Mikan, but still needed to pay him a premium to keep him around. In those days it was up to the owners to completely fund their teams. He was willing to spend $60,00 on salaries their inagural season.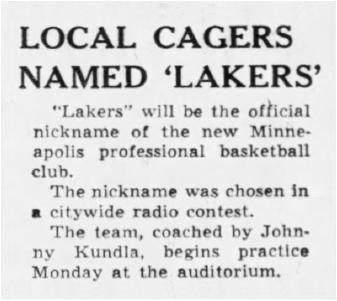 The city came up with a clever name. Do you know another city that came up with the name for a new team through a contest?
Do you know another city that came up with their name through a contest?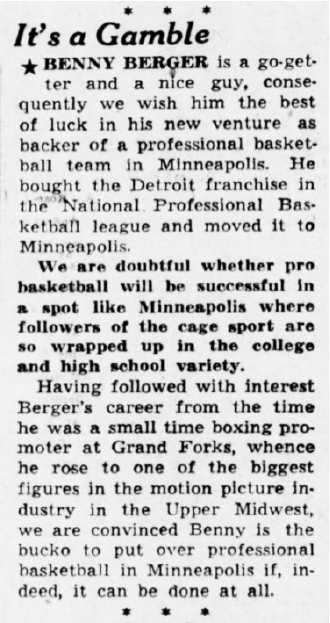 "We are doubtful whether pro basketball will be successful in a spot like Minneapolis..." George A. Barton
Star Tribune MPLS, MN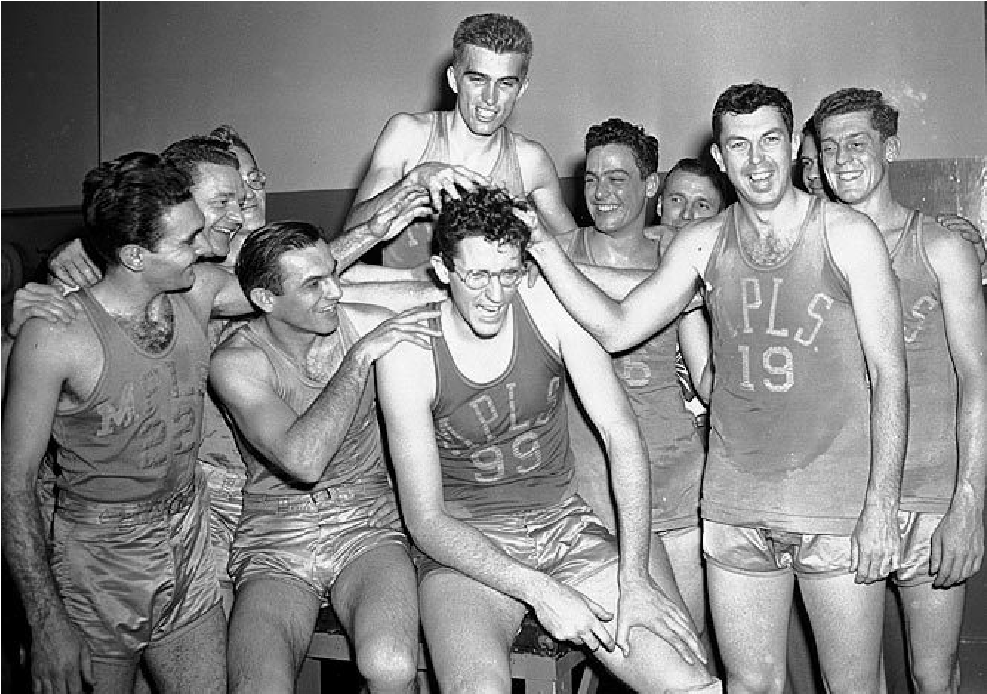 Ten months after the purchase the Lakers won the National and World Championships.

Oh right, then they moved to Los Angeles.
The rest is history...