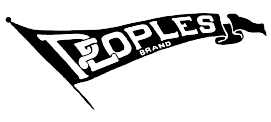 Chicago Duffy Florals
1935
Organized by a florist on the south side of Chicago, the Duffy Florals experienced a brief but exciting existence. Part of the Midwestern Professional Basketball Conference, a predecessor to the NBL and later the NBA, the Florals lasted only as long as the conference, a meager 2 seasons.
The inaugural regular season left the Florals with a less than dominant 3-2 record, but their wins (and ticket sales) were large enough to grant them entry into the conference championship tournament. Perhaps the low expectations caught the heavily favored and top-seeded Akron Firestone off guard as the Florals handed them a first round loss. Astonishingly, the Florals proceeded to beat the second best team in the Eastern Conference, the Pittsburgh Y.M.H.A thus paving the way for a championship game against the famous Indianapolis Kautskys. After trailing most of the game, the Florals surged ahead in the last minute of play to defeat the Kautskys 39-35. This championship was great, but sweeter than most, as the team they defeated was led by none other than John Wooden.
Inspired by the flowery occupation of the team's owner, this shirt depicts the simple graphic that may have been worn by a dedicated fan of the team.
Another PPLS original printed with water based inks on a light blue fitted T.