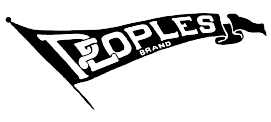 Acme Packing Company
1919
1921 The Acme Packing Company was based in Chicago! They purchased the Indian Packing Co, which was based in Green Bay, who had been sponsoring a football team, the Packers, since 1919.
In 1921 they sponsored the Acme Packers as they joined the American Professional Football Association.
The APFA would change its name to the NFL in 1922 and the rest is history.
This is an original PPLS design printed only on the softest garments.